Why's my car acting funny? 5 signs it may be time for an oil change
When was the last time you had your car serviced?
Whether it be a trip to the grocery store or out on the open road, the time to think about an oil change is before you head out. The last thing you want is to get stuck on the side of the road in the middle of an Ann Arbor winter.
Every car owner needs to know what to look for if your car is acting funny. Here are 5 signs it could be time for an oil change.
CHECK ENGINE OR OIL LIGHT IS ON? MAY BE TIME FOR OIL CHANGES IN ANN ARBOR
That dreaded neon sign, right on the dashboard, right in front of your face. It's the one that alerts you when there is not enough oil, or when your car has other engine problems. At Louie and John's Complete Auto Service, we offer guaranteed repairs for many brands.
WHAT'S THAT CLANGING SOUND?
Clicking, ticking, shaking, metal-on-metal scraping —that's the tapping, grinding sound of an engine in need of lubrication, and the sooner the better. There's no way around it – your engine must be well lubricated. If your car is talking to you, you'd best be talking to us.
WHAT'S THAT SMELL?
Is your engine in danger of overheating? The distinct smell of burnt oil can answer that question. It could mean your oil is dirty. A quick check with an oil stick can be one way of checking. While your car may still run with discolored oil, the oil should be amber in color.
Who knows how much time you have before your engine suffers, but chances are it's headed in this direction and it is not a good idea to ignore this one. Do yourself a favor – get that engine serviced.
THE OIL CHANGE STICKER
Someone came up with the genius idea years ago to take the guesswork out of when to change your oil. Good oil change companies will put a sticker on the windshield for you, but you have to remember to check it. Better yet, don't wait until the due date if you can help it. It's a game-changer to take your car in sooner than required, which results in a happy, well-performing engine.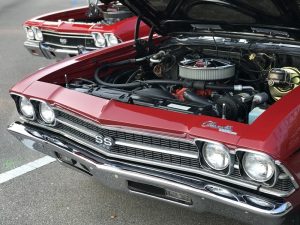 EXHAUST SMOKE – IT'S NOT THE NEW NORMAL
Every vehicle has normal vapor. But if your tailpipe looks like it's taken up smoking, it's a sure sign you are headed for trouble. We're talking about things like oil leaks and dirty filters, as well as your engine burning the oil as it heats to unhealthy temperatures.
So pay attention to your exhaust–if it's white, especially in the cold weather, that's okay, but if you're making smoke, it's not normal. It means you have a big problem that can make your car cough and sputter, leaving you stranded on the side of the road and shivering in the bitter Ann Arbor cold.
THERE'S A SOLUTION FOR ALL THIS: START WITH ONE OF OUR OIL CHANGES IN ANN ARBOR
When was the last time you paid a visit to Louie and John's Complete Auto Service? Better yet, when was the last time you let us provide you with the most convenient oil change in town, as well as the fastest?
We value our customers and know the inconvenience of having your vehicle interfere with your plans. That's why in addition to speedy, thorough service, we offer free loaner cars.
There's no waiting; just come on in. Our talented team of technicians will have you up and running in a fraction of the time you will find at other auto service providers.
The good news is that with the proper car maintenance, you can make sure you and your car stay warm and happy through the winter with our oil changes in Ann Arbor. At Louie and John's Complete Auto Service we offer pick-up and drop-off service, and we follow best sanitization practices for your safety. For the price of a dinner salad, you can have the peace of mind that comes with the best service around, and you can drive off the lot with confidence.
Winter is not the time to flirt with the elements. You owe it to yourself to take preventive measures for the health of your car. Give Louie and John's a call today. Trust us, your car will thank you.